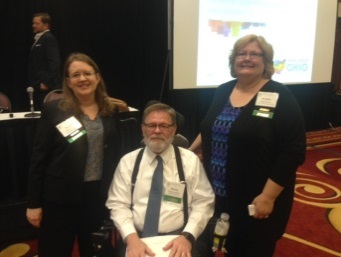 Susan Thomas, FTZ 46 &47; Randy Campbell, FTZ 8, and Angela Atwood, FTZ 138, engaged about 70 economic development leaders in Ohio on how FTZs encourage and facilitate global competitiveness and assist state and local economic development efforts. They delivered the presentation on October 22, the first full day of the OEDA Annual Summit.
Representatives from three of Ohio's most active Foreign Trade Zone programs presented a program to economic development professionals and municipal leaders at this year's Ohio Economic Development Association (OEDA) annual meeting in Columbus, Ohio. "Zones of Opportunity" highlighted the business case for the Foreign Trade Zone program and described how leaders can stimulate economic development across Ohio and provide benefits for local communities and users of the FTZ program.  Susan Thomas, Vice President of Public Finance at the Port of Greater Cincinnati Development Authority, was a member of the panel.
During their hour-long presentation, panelists described operational details and regulations of the program, as well as the application process. They fielded questions from members of the 70+ attendees.
OEDA's Annual Summit continues to grow and gain prominence by delivering timely information on economic development issues important to growing the Ohio economy. OEDA represents over 300 development professionals from across Ohio.
See the OEDA presentation here!